McDonald Family Personal Notes
I was not familiar with the scriptures in Samuel until God led me to them after He gave me the name SAM'S ROCK to use for our prayer group.
In 1 Samuel 1:20, Hannah named her child Samuel saying, "Because I asked the Lord for him." (She prayed for him!) I had no idea that the name Samuel (female-Samantha) meant this!! Sami was the only child I prayed to have; it wasn't until just after I had my second child that I came back to praying. (not that I wanted my other children any less, of course)
Sami's rock is Jesus Christ, the day she went to heaven she chose THE STORY OF EASTER as one of three books to be read to her and she sang JESUS LOVES ME, her favorite song, that day as she was swinging.
She also loved rocks! She would even pick up asphalt gravel in parking lots — several small rocks were found in her purse that went into the pool with her. I like to think of God's love for us to be like Sami's for rocks — she loved even the most unworthy.
In 2 Samuel is the story of King David's child who died — when asked why he stopped mourning and fasting after the death of his child (which wasn't customary) he said in 2 Samuel 12:23, "But now he is dead, wherefore should I fast? Can I bring him back again? I shall go to him, but he shall not return to me."
I found this scripture one day — it spoke to me as an answer to my prayer. (Lord — How now shall I live — I miss her soooo much, I am homesick — I too want to come to you.) This scripture gave direction and hope — telling me to rise up — go on — but one day I shall go to her. He promises — and to this I cling.
Family Christmas Letter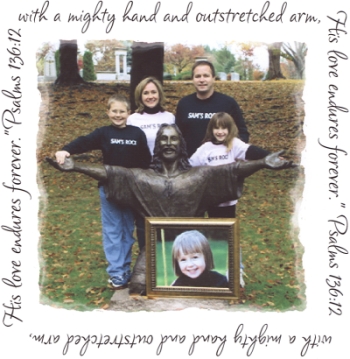 Dear Family and Friends,
As you can imagine this is not a simple Christmas letter to write. They have all come from my heart and I assume this one will be no different than the others, just harder to write. The family is overwhelmed by the one shocking reality of our current life. Sami is no longer here physically. For those who do not know, she died on May 2nd in a drowning accident in our pool. Life for us will never be the same again. I miss hearing the sweet sound of coming home from work at 1:30am when Sami would say, "Daddy, daddy, you're home." Debi would be fast asleep on the couch as were Jacob and Becca in their beds. Sami so frequently stayed up watching Dora and Diego that I was use to this. Then Sami and I took the dogs out and she, Debi, and I went to bed after the walk. This is no more.
This will not, however, be a letter of sadness. My prayer is that it is simply a letter of God's truth, that He will never leave you, nor forsake you. So many of you traveled here in our time of darkness and lifted us up. So many of you prayed for us, and sent flowers, and sent gifts, and sent food. When we struggled with our sadness, you helped. We can never repay you for these gifts. Please take a moment to think of what you did for us. But, was it you who did this for us or was it God? We are lifted up. God has given us our deepest joys and deepest assurances of His existence and His plan in our time of deepest sorrows. Take this moment to reflect upon what God has done for you, for none of you are without sorrow. God sent His one and only son to die for you on the cross, a most horrifying death, so that you might be called His child. The gift of Christmas is yours for the taking.
The family has celebrated in so many ways this year. We had a trip to Cumberland with Rich/Kim and Jeff/Sue that was punctuated by the presence of Danny whom I had not seen in years. We had a visit with Mike, Dawn/Dale and their family in Canton. We got to go with Lyn and Kerri to see Grandma Pevler one last time before her death. Sami even performed several songs and dances with Becca on this visit, although I can say with confidence Becca would have preferred their recitals separate as Sami had not studied the routines. Debi and I went to Maine to meet and visit with the sculptor of Sami's memorial in August. We had the benefit of meeting Tom White, the sculptor, and his wife Marcy in early August. We experienced the benefit of turning an impromptu visit from Amy/Matt/Meghan/Alex and Brett/Jennifer/Finn into a full Jacobs family reunion. We have had countless visits from Jennifer/ Brian/Connor/Cameron/Collin as well as Jacob/Sherry/Audrey. The year was punctuated with our overseas trip to England to visit Scott/Paula/Ashton. They were such wonderful hosts in guiding us through this experience. I did not know that 5 days in the rain could be so much fun and so relaxing. If you have not seen Scott dress as a turkey and sing Thanksgiving carols as well as have Paula serve as your ultimate host, I encourage you to go visit them in England.
Jacob and Becca are doing well. They are progressing admirably in school. Jacob still does karate and has advanced to his purple belt. He also played for the Champion Red Sox in our church league and was a great hitter. Becca has resumed her gymnastic studies and continues to love partaking in American Heritage Girls activities. Her troops' tree was featured on the local news out of 300 total because it was dedicated to Sami. Becca also loves ice skating. Debi continues to serve on the school PTA and has founded a prayer group in the school called Sam's Rock. You can get info on this at samsrock.net. We have added to the family this year in the form of 2 cats, Twinkle and Garfield. This Saturday I pick up our new chocolate Lab whom I think will be named Rufus although the jury is still out.
All is well here because God is guiding us. Life holds many perils, but in the spirit of the season, I offer up to you the only true gift and that is Jesus Christ.
Praise be to God,
Geoff, Debi, Jacob, Becca, Sami, Maggie, Yeller, Twinkle, Garfield, and maybe Rufus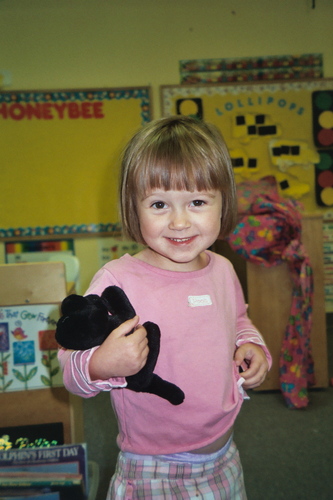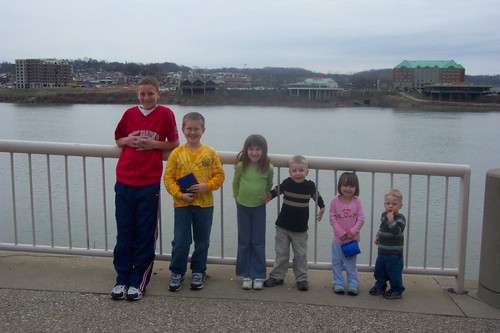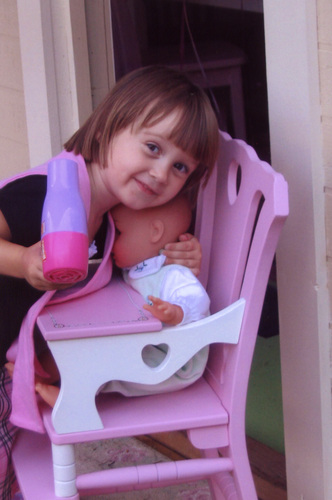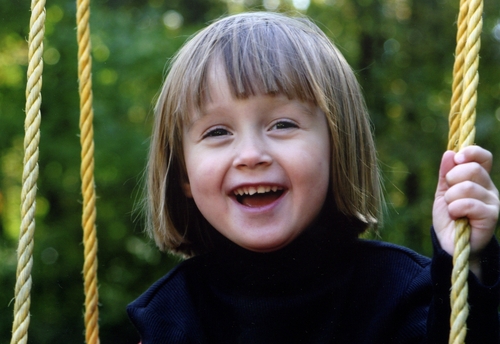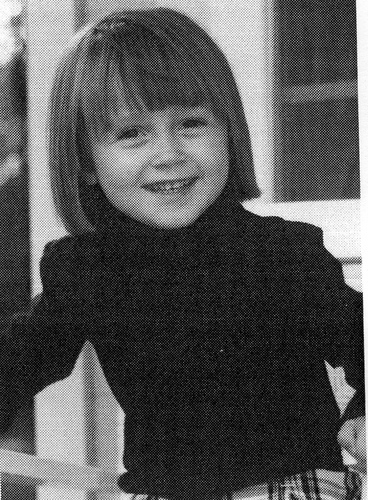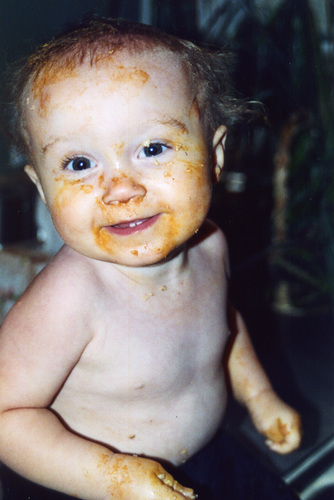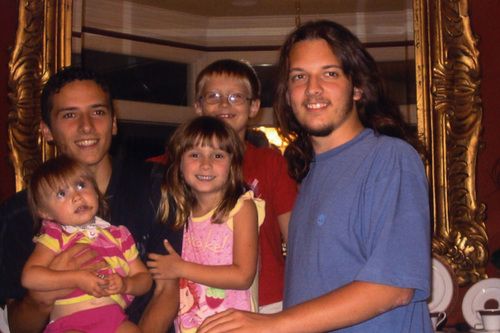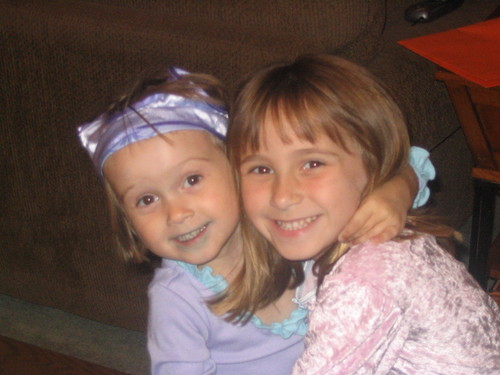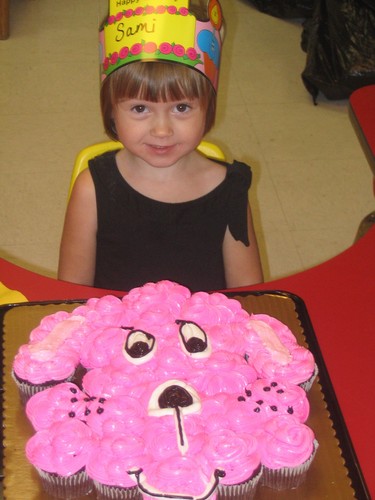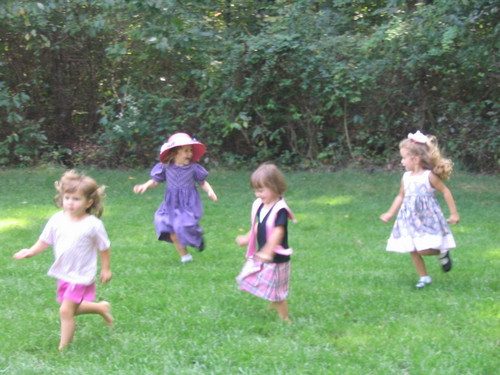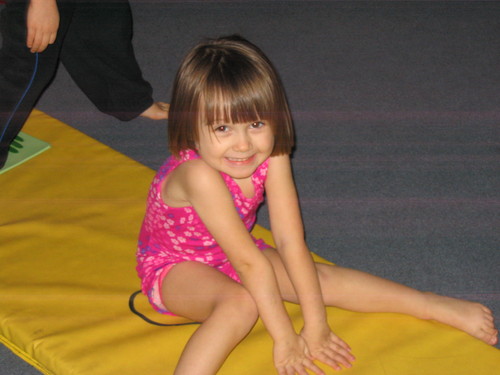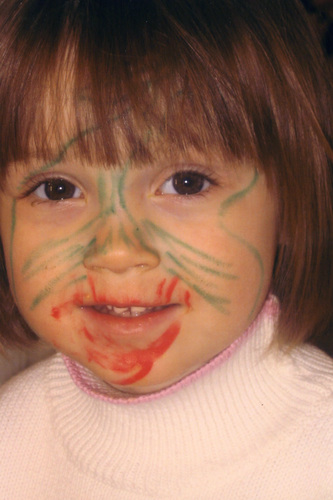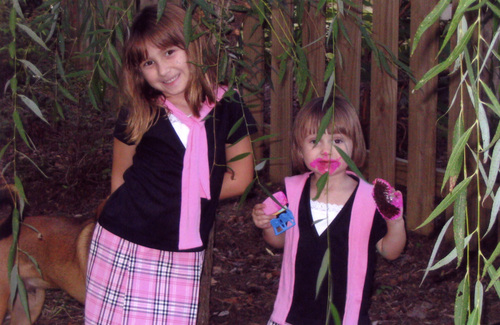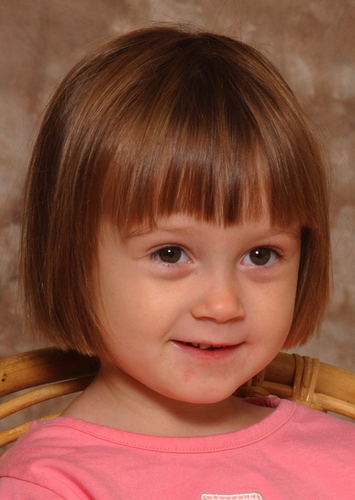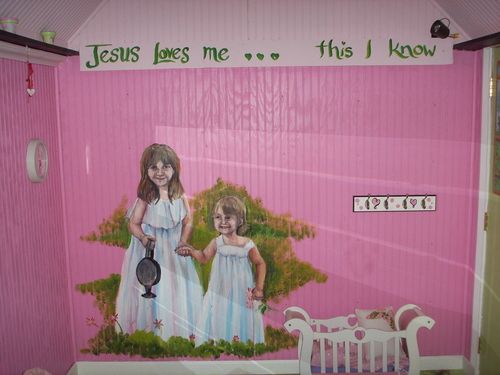 Our Christmas present from Sami -
Sami's preschool class made these last year (2005). They finger painted with gold paint, the teacher then cut into an angel shape, added their photo and laminated. When I opened the box for the tree decorations I found it on top. This year and every year it will go on top to remind us where she is on Christmas and everyday - with the angels in heaven having a party that we can't even imagine. Some may think it was coincidence but as we see more and more - things like this are God speaking to us, not a coincidence but a God incidence.